We pray with you using 5 Keys that lead to more Freedom, Healing, Peace, and Intimacy with God.
By the power of the Holy Spirit and in the name of Jesus, true forgiveness is possible, even if it seems impossible for you. For nothing is impossible with God! Forgiveness opens the door to Freedom in Christ. And Freedom in Christ enables you to be your authentic self and to express your gifts and serve the world through your unique expression of the Holy Spirit + your Gifts.
5 Keys to Freedom in Christ Ministry offers this non-confrontational prayer ministry using the internationally proven Unbound prayer model. Led by the Holy Spirit, we focus on listening, accepting, loving, and blessing those we serve, as we apply the Gospel's 5 Keys to individual lives and help shine light on each person's true identity in Christ. With the blessing and encouragement of our parish priests, we confidentially serve people who have difficulty forgiving or who repeatedly struggle with the same areas of sin, weakness, or negative thinking, as well as those who lack hope of ever being free of the residual effects of their past.
We have corrected an error that affected submitting requests for prayer sessions, so please accept our apology and try again if you were not able to make an appointment earlier. We are currently scheduling sessions in October and November 2017. Our sessions take place at St. Dominic's Catholic Church in San Francisco. You should allow about two weeks before your session to prepare (by reading at least half of Unbound and reflecting as explained in our appointment confirmation emails).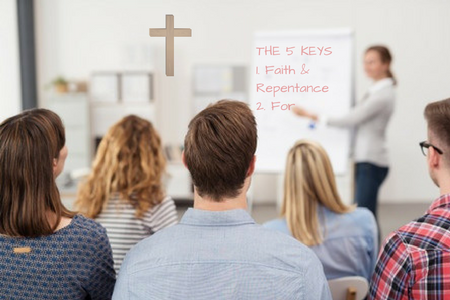 BASIC UNBOUND TRAINING
Learn This Incredible Prayer Model
Registration Is Closed for 2017 Group Training
but inquiries are still welcome for guided self-study or future group training sessions, with dates not yet determined.
Unbound Prayer Ministry helps Jesus' followers to experience the freedom they've been given in Christ, and YOU can be one of the laborers in this rich harvest. This is truly a blessed calling because you're involved in regular, fruitful spiritual works of mercy, in obedience to Christ's mandate to spread the Gospel and to heal and to set the captives free. In less than a weekend, we present: The Five Keys to Freedom in Christ (both our ministry and what the 5 Gospel keys are); videotaped Freedom in Christ Conference talks by Unbound author Neal Lozano and other speakers from Heart of the Father Ministries; we offer prayer experiences; and we answer the most frequently asked questions about how to do this kind of ministry. Most importantly, we stress that God can use broken vessels for his holy purposes! It is the Holy Spirit, the 5 Keys, and the prayer recipient who really make the healing and freedom happen, so we train ordinary faithful people to lovingly lead others through the internationally proven UNBOUND model. The results are supernatural!

Speaking to Catholic Groups about Healing Wounds of the Heart and Living in the Freedom of Christ
Our Mission is to help believers break free of hurts, fears, and unhealthy habits and move into their healed, authentic selves, but many practicing Catholics who could benefit from Unbound prayer don't know this ministry of breakthrough transformation is available.
Many people also don't know:
Forgiveness is the Key to Freedom
What Forgiveness Is
Freedom and the Holy Spirit are Closely Related
How the Process of Forgiveness Works (Clue: What's Impossible for Humans is Possible with God)
The 15 Reasons Why It's Hard to Forgive 
How Our Sinfulness Leaves Us Vulnerable to the Deceiver and Father of Lies, Whom Jesus Has Already Defeated
The Links between Forgiveness, Healing, Deliverance, and Life to the Full
So, in keeping with our mission, we give talks, workshops, or parts of retreats covering topics such as these! We hope you'll opt in to our email list to hear about virtual and local opportunities to learn more, as well as dates for Parish Prayer Days.

Be more authentic. Do more of what you're here to do. Enjoy the abundance of life. Draw closer to each person of the Trinity.
Chris Boersma Smith's spiritual direction is offered to a limited number of Catholic women who earnestly seek spiritual growth through an ongoing relationship with an encouraging soul companion. She feels called to use her spiritual gifts to assist and support others' spiritual journeys in partnership with the Holy Spirit.
Long after her four semesters of theology at Georgetown University and years of parish service, Chris was trained as a spiritual director in 2005 and 2006 through the Monastery of the Risen Christ. She regularly attends the school's continuing education retreats (now called the Abbot David School for Spiritual Directors, named after its founder, Abbot David Gereats, O.S.B., pictured below with Chris on her graduation day). After training in Christian Healing Prayer, she was also trained as a spiritual coach, a creativity coach, and an UNBOUND healing and deliverance prayer minister.
Those journeying with Chris in spiritual direction set the agenda and their spiritual goals, and Chris helps them to discern God's will when it comes to their spiritual practices, sacred self-care, gifts, work, relationships, spirituality, play, creativity, and service. The prerequisite is to have received Unbound prayer!